I'd never thought I'd live to see this, but the day has come when a gay entity finally struck back at Tom Cruise the only way they knew how: by offering him a lifetime membership. On Manhunt. Yeah. Manhunt.
It's only fitting considering that Cruise has bent over so far backwards his head is literally neck deep in his own, um . . . tunnel, in trying to deflect gay rumors that have chased him for most of his career, which now enters its third decade. I'll admit that at the beginning - circa Top Gun, when I had more of an idea of gayness in the media - I kinda rebuffed it. I mean, yeah, he was pretty, and I had his haircut - who didn't? - and fuck it, I wanted to be him, but was he gay? Really? I didn't think so. [Then again I don't care much for actors. I've been more a bodybuilder / powerlifter guy.]
But then the rumors weren't going away. They only intensified, and grew, and then the odd divorce from Mimi Rogers, the hasty marriage to Nicole Kidman that became increasingly cardboard as the 90s turned into the 00s, and then the split. And then the porn star who had allegedly had a tryst. And the lawsuit against the reporter who blabbed about it. The incredible, convoluted mess that it became.
And then the bizarre episode on Oprah. How far into your own hype do you have to be to have to - at that age, too - jump maniacally on a sofa, claiming you're in love with a Hollywood starlet, who by the way suddenly found herself bound and gagged into being a mere decorative accessory by his egotistical side? I can only imagine the shackles she probably was put in every night, while he . . . oh, who knows. All I'll say is, anyone who has to go to that extent to prove he's something has a long tail of lies following him.
So now, Katie can declare herself a free woman, hopefully to resume work, and all he gets is this offer: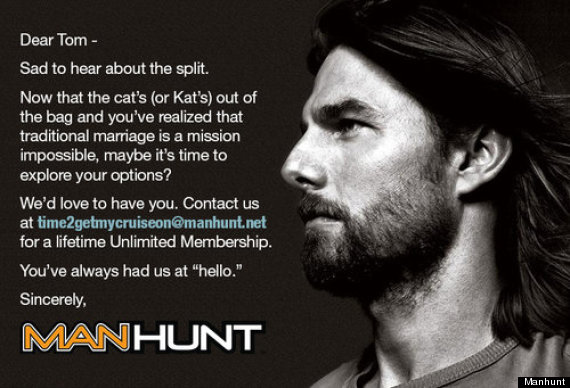 I doubt he'll join, but it's a nice slap in the face from the trenches where he dare not tread. In public. Because he has an acting career to maintain. Oh, who cares - I stopped caring the moment I realized there were better role models to look up to, personalities more secure than he ever will be. I'm sure he'll find . . . someone to keep him warm and secure.
The acting word, of course, is secure.